The Advantages of Driveway Pavers
To add curb appeal to your home, there's nothing like pavers. As opposed to concrete or asphalt, driveway pavers can provide a distinctive appearance, creating a look and feel unlike any other. You'll standout from the crowd and add value.
Here's a look at some of the benefits of choosing driveway pavers:
1. Fast installation
Asphalt and concrete required considerable prep time, while driveway pavers can be in installed in a matter of days making it an easy and efficient alternative. What's more, with pavers you can use your new driveway once installation is complete. Concrete and asphalt require a considerable amount of curing time.
2. Paver patterns provide distinction
When you opt for pavers, you have the ability to create a driveway design that's truly one-of-a-kind. With so many paver shapes and sizes to choose from, you can design a pattern that will set your home apart from the rest!
3. Paver colors
Pavers are the perfect choice to complement the color of your home and landscaping. Paver colors range from traditional soft and muted to contemporary bold and complex color blends. As opposed to concrete or asphalt, pavers provide a color palette made to stretch your creativity.
4. Durability
We've seen how concrete and asphalt cracks! Driveway pavers are much stronger and can handle the weight of a vehicle better than either. Also, because they are interlocking and have the ability to "breath" and slightly shift with temperature changes, your assured of a driveway will look great season after season.
5. Pavers – a breeze to repair
When a concrete or asphalt driveway cracks, repairing the damage often results in ugly patches of mismatched tones and textures. Not so with pavers – repairing the damage couldn't be easier. Because individual pavers interlock to form the surface, repairing is as easy as pulling up the damaged pavers and replacing them with new ones!
6. Safety counts
With pavers there's no need to worry about bad weather. Driveway pavers provide better traction and better drainage. So, tires won't slip or slide. Pavers provide piece-of-mind.
7. Low maintenance
Concrete stains and asphalt require constant resurfacing.
Once sealed, driveway pavers require little to no maintenance to keep them looking good.
8. Long lasting
For longevity, nothing beats Nicolock pavers. With their patented paver-shield™ technology, you're assured of a tight, smooth surface texture combined for superior color, strength and beauty that will last for generations.
For inspiration, scroll through our Nicolock paver image gallery: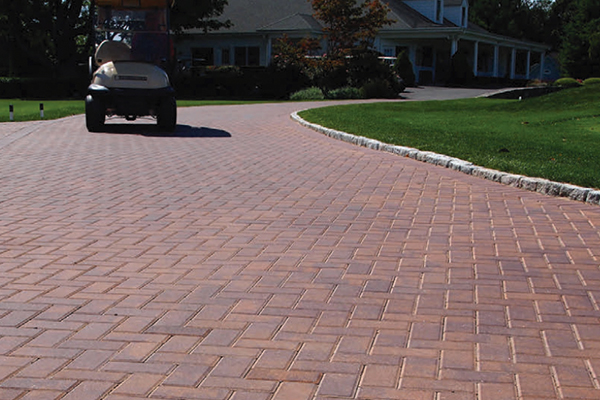 When it comes to pavers, Reuther Material is the answer.
At Reuther, we stock a large inventory of Nicolock pavers. Our professional, knowledgeable staff will help you choose the perfect pattern, color and shape that will provide lasting beauty and durability. Plus, we carry all the tools and supplies you'll need – from sand and edging to sealers and blades. We have it all!
With Reuther, you'll have your materials where and when you need them.
We offer a comprehensive array of delivery options. Our fleet of trucks ensures that we can accommodate orders of any size and different offloading needs. Our fleet of specialized equipment allows for exact placement at your job site, or prompt loading of materials when picking up. You won't be forced to load yourself or deal with long waits.