Retaining Walls Are Beautifully Practical
A well-built retaining wall does more than enhance the look of your property. It keeps soil in-place on a sloping terrain, stops soil from eroding and helps prevent flooding. A beautiful retaining wall can be a great focal point in a backyard and act as a landscaping backdrop, allowing for a variety of creative gardening ideas.
Here are a few tips when considering a retaining wall:
Calculate the square footage: Multiply the length and adjusted height measurement to determine the square footage of the retaining wall. Multiply the square footage number by 144 to find the size of the wall in square inches.
Calculate the number of blocks: Estimate the number blocks you'll need for each course. (a course is a horizontal layer of retaining wall blocks). Here's the math using a 6" x 16" block: (length of the wall in inches) ÷ (length of a block in inches) = blocks per course. Example: 120″ course ÷ 16" block = approximately 8 blocks per course.
Check with your utility company: Your town may require permits or there may be obstructions like buried lines. In some cases, an inspection is required to ensure that the retaining wall won't create drainage issues.
Start with a good foundation: Calculate trench size, depth and gravel base. A rule of thumb is to dig your trench an eighth of the wall height plus three inches. For example, if the retaining wall is 48" high, your trench would be 6" + 3" = 9" deep to account for 3" crushed rock base. The width should be several inches wider than the block to accommodate gravel behind for drainage and some space to adjust each block. Pack and level the trench.
First row is critical: Each and every block on the first row must be level. Naturally, put a level on your wall as you progress to ensure consistency. Stack the blocks up and stagger the seams to achieve a nice offset look.
Proper drainage: Fill in the rear of the wall with gravel to ensure proper drainage.
Glue the top layer: Gluing the top layer will hold it in place, providing your wall a layer of security.
We carry the best in wall stone brands:
Nicolock's rugged wall stones come in a variety of different styles and vibrant colors to suit any project requirements and designed to match or complement any of their pavers. Here's a look: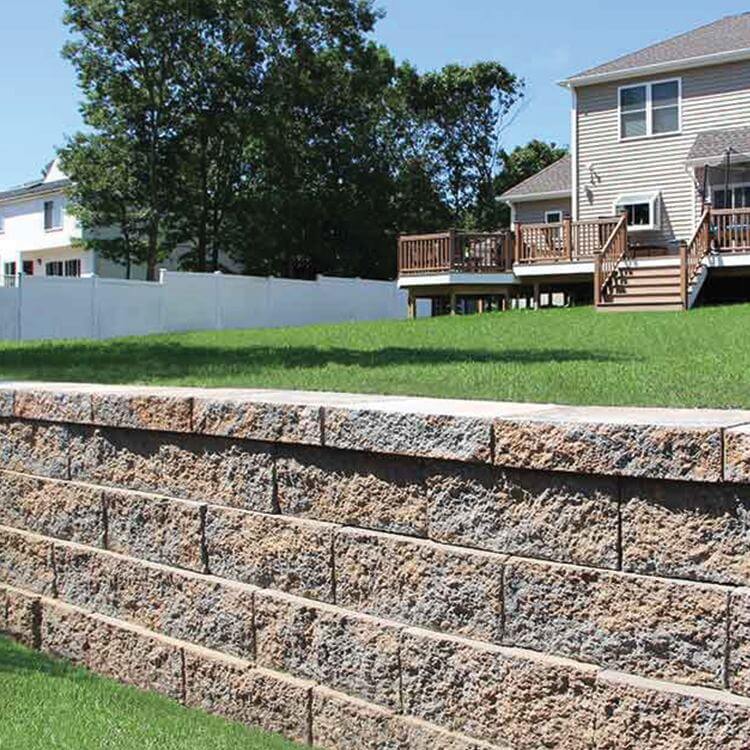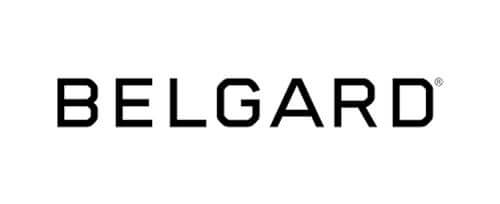 Belgard offers a versatile selection of retaining walls suitable for any landscaping project. A retaining wall from Belgard creates drama, privacy. Strong and durable, yet easy to install, Belgard has the perfect solution to get your wall project off the ground. Here's a look:
Reuther – for all your retaining wall needs.
At Reuther, we stock a large inventory wall stone, gravel, tools and accessories ­– everything you'll need to get the job done! Plus, our professional, knowledgeable staff will help you choose the perfect type, color and size for your project.
With Reuther, you'll have your materials where and when you need them.
We offer a comprehensive array of delivery options. Our fleet of trucks ensures that we can accommodate orders of any size and different offloading needs. Our fleet of specialized equipment allows for exact placement at your job site, or prompt loading of materials when picking up. You won't be forced to load yourself or deal with long waits.