Q. What paver should I choose?
A. There are many different types of pavers to choose from ranging from brick (clay), bluestone, marble, porcelain to cobblestone, granite, limestone and more. But concrete pavers are a great starting point. They come in a wide variety of textures, sizes, colors and styles – rustic, traditional, modern and more. Below are several common examples: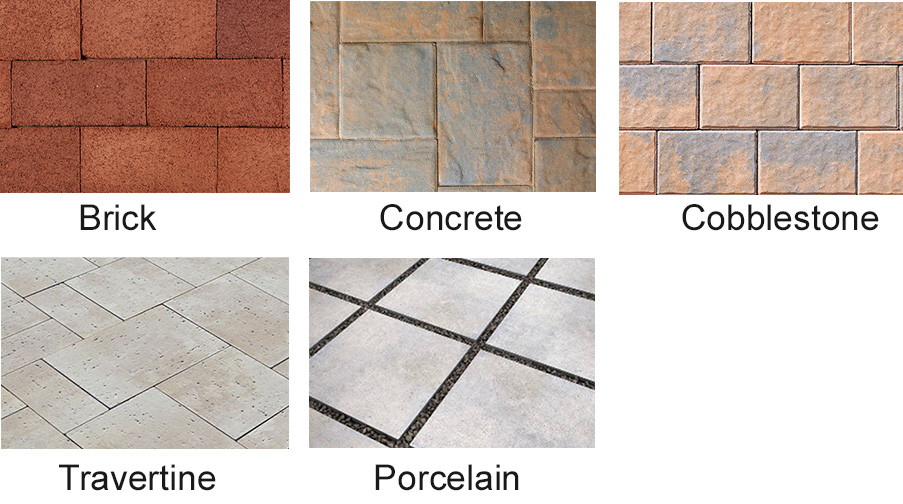 Q. How do I clean my pavers?
A. Pavers can be cleaned in four simple steps:
Step 1: Clean the surface. Remove all the debris that has accumulated over the surface; loose dirt, leaves, sticks, etc.
Step 2: Wet the surface thoroughly. Please note: the product must not be allowed to dry on the surface. Respray as needed to keep the area wet.
Step 3: Apply the PW or EF products with a watering can and immediately scrub the area with a stiff brittle broom. Bubbles will appear where the cleaner has been applied.
For large areas, work in 200 sq. ft. sections.
If at an incline, start from the highest elevation, then work your way down in small sections scrubbing from the bottom up.
Step 4: Rinse the surface and surrounding area until all traces of the cleaner are gone.
Q. How do I seal my pavers?
A. Apply sealer so that every part of the paver is covered. Rule of thumb is every 3-5 years. Always check the manufacturer's specifications.
Consider these SRW sealer products:
SRW LG Low Gloss Sealer is a low-gloss, color-enhancing paver sealer that stabilizes joint sand and protects against sand washout, weed growth and ant infestation. It extends paver life while providing an attractive surface sheen.
SRW HG High Gloss sealer provides a high-gloss, wet-look protective barrier that prolongs the life of any paver project. Use this product to protect and beautify a paver's appearance.
Q. Should patio pavers be level?
A. They should appear level and the ground should be level for pavers to drain, but with a slope of 1 inch to every 4 feet in length, to encourage drainage.
Q. What kind of paver pattern should I use?
A. Choosing a pattern that's right for you depends on your tastes and the size and complexity of your project. Below are several examples:
Q. Can I use pavers for a driveway?
A. Yes! Pavers are a great alternative compared to concrete or asphalt. Paver advantages include:
Quick installation
Variety of colors and patterns
Durability
Safety
And more!
Reuther is your one-stop paver shop!
When it comes to pavers, no other supplier has the variety, inventory, or experienced staff that you'll find at Reuther Material Company. We carry Nicolock, Belgard, MSI, LibertyStone and Unilock. Plus, we have all the tools you'll need, and the products to build and maintain your new paver project!
At Reuther, we offer delivery options to suit you.
Our fleet of trucks ensure that we can accommodate orders of any size and different offloading needs. Our fleet of specialized equipment allows for exact placement at your jobsite, or prompt loading of materials when picking up. You won't be forced to load yourself or deal with long waits. At Reuther, we're here for you!